Q: Does the server require control panel system?
A: No. Only requirement is PHP7.1. You can run it on dedicated server, VPS, AWS, Azure, Digital ocean, and etc. No matters you are running web hosting on cPanel/WHM or non-control panel, our RVsitebuilder is supported.
Q: How does the license work?
A: It is a per-server license, unlimited web sites same as previous version. You can run as much as web sites you like without additional cost as long as they are under the same server. VPS is count as a server.
Q: Why RVsitebuilder license change price after RVsitebuilder 7 launched?
A: RVsitebuilder version 7 is the major change of its website building framework, business model, and price. It doesn't separate licenses by Dedicated and VPS server types, but one price for both. Either your server is Dedicated or VPS, you will purchase the same 15USD per license per month. Aside from holding the same prices for the entire 11 years, followings are the reasons of new pricing.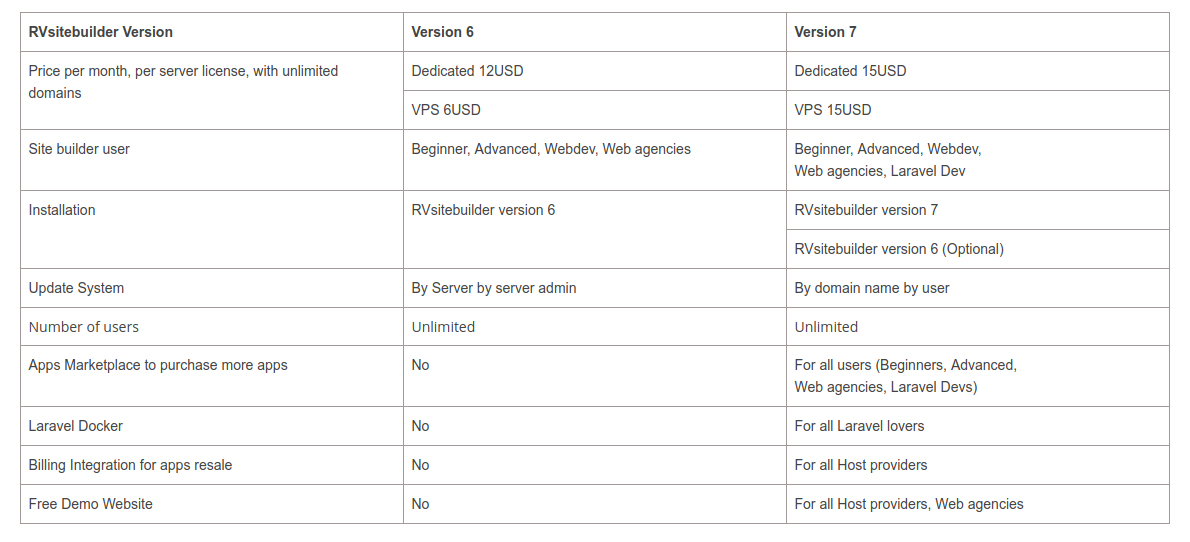 Q: Will RVsitebuilder licenses I currently have change to 15USD for its renewal?
A: No, all licenses purchased before 31 January 2019 including your current ones will get the same prices with renewal. That means, even though the renewal is passed January 2019, you will pay the same price as you purchased.
Q: Who can install and update version of RVsitebuilder 7?
A: RVsitebuilder 7 can be installed by server admin who can access to server by root privilege or installed on domain by using our installer. No root access is required for the first domain. As it is a server license, if you want to use it on a second domain, you need to access to the server as root and run license script then you can install it as many as domains under this server.

To update versions from RVsitebuilder 7.0 to higher, the server admin can do for global users on the same server, and user can do it directly from their individual website admin area. So the bug fixed is no needed to wait!
Q: If i need to provide RVsitebuilder version 7, do I need to uninstall/remove RVsitebuilder version 6?
A: No need to remove RVsitebuilder version 6. Once a server got RVsitebuilder upgraded from version 6 to 7, it will have RVsitebuilder two versions to access. Projects from version 6 will stay to continue editing and creating new ones, and will be able to use only the features in its original version. RVsitebuilder 7 will be another app you can access to create new projects.